Program Partners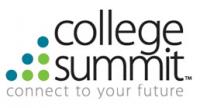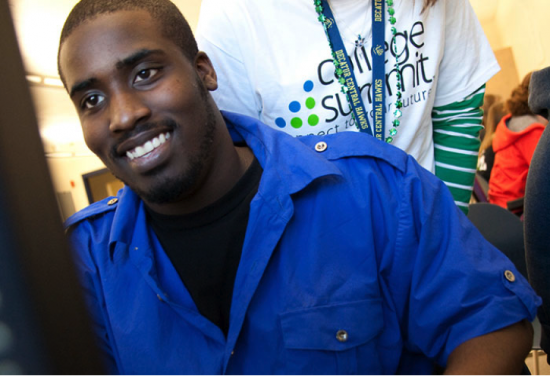 (from College Summit website):
College Summit 
was founded 18 years ago in the basement of a low-income housing development by a teen center director, J.B. Schramm '86. He saw how college transformed the lives of young people in the neighborhood, and how peer influence pushed some students off the college path, while it spurred other students to thrive. From that modest experience, College Summit has grown to serve 50,000 students annually in 170 high schools in 12 states by partnering with high school principals, teachers and the most influential students in lower-income communities to raise their college-going and success rates.
The College Summit Approach
Rising college enrollment rates reveal what high schools are doing right for their students. College Summit builds the capacity of schools to dramatically increase college-going school- and district- wide. Trained student influencers build college-going culture, while teachers and counselors use a managed curriculum and technology tools to help all students create postsecondary plans and apply to college. Data and accountability tools equip school leaders to manage improved student outcomes. The result? All students see high school graduation as a launching pad to successful futures.
The Problem
Students from the low-income quartile who gets A's on standardized tests go to college at the same rate as their higher income peers who get D's on the same tests.
In America today, there isn't a systemic approach to getting all college-ready students to college. Every year, hundreds of thousands of high school students who are "better than their numbers"—who have average test scores and/or grades—but who have clearly demonstrated their potential for college success, fail to make it to college. Data shows that getting into college requires more than solid academic preparation and even adequate financial aid.
The costs are enormous. For each individual: On average, a college graduate earns $1MM more over the course of a lifetime than high school graduates. For each community: College attainment has been proven to be the number one driver of urban economic growth.Nationally: While global economic competition is fought with college-educated skills, the U.S. has dropped from being 2nd in the world among 40 year olds with college degrees to sitting 8th in the world among 20 year olds with college degrees.
College Summit focuses on transition, an often overlooked step in the postsecondary planning process that can be particularly challenging for first-generation college-going students. High-achieving low-income students often lack many of the resources and information available to their more affluent classmates when applying to college, such as test prep courses, college visits, and application guidance. College Summit equips schools so that all students can be supported through this application and transition process. Through innovative school partnerships, College Summit provides educators and students with the right tools, resources and experiences to better navigate the difficult transition from Grade 12 to Grade 13.
School Partnerships in Action
In response, College Summit strengthens schools' capacity to prepare all students for success after high school:
Tools and Training: College Summit works with educators to embed a postsecondary planning structure and resources into each school. This includes a regular, for-credit College Summit class with detailed curriculum, regular teacher training and online tools to help both teachers and students manage college applications online.

Influential Students: Central to the program is peer leadership–College Summit trains influential students to help build a student-led college going culture in their high schools. 20% of the rising senior class attends a four-day workshop on a nearby college campus where they get a head start on college applications by learning how to effectively write a personal statement, meet one-on-one with a guidance counselor, learn the basics of financial aid and gain concrete skills in self-advocacy. Armed with real experience, these students then return to their schools and spread their enthusiasm to their peers.

Measuring Results: College Summit meticulously tracks progress and delivers data to educators. By sharing ongoing measurement and analysis, College Summit empowers educators to innovate and make course corrections mid-stream to maximize college-going in their schools.
Impact
If communities can raise their college-going rates community-wide, affordably, then America's college transition gap can be solved. Hundreds of thousands of young people will break the cycle of poverty for their families, and America will stand stronger tapping their talent. College Summit and our school partners, together with our higher education, corporate and philanthropic allies are committed to the day when every student who can make it incollege makes it to college.