Recommended Online Resources
New York Times Topic: Nicaragua
New York Times Travel Article: 36 Hours in Managua
BBC News Country Profile: Nicaragua
Recommended Books
The Yale Alumni Service Corps has chosen Blood Brothers: Life and War in Nicaragua for the optional book club discussion on Monday, March 17, 2014. Other recommended books on Nicaragua are below:
**Yale Alumni Service Corps Book Club Pick**
Blood of Brothers: Life and War in Nicaragua
By Stephen Kinzer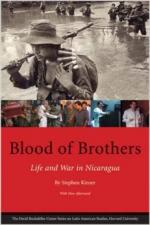 In 1976, at age twenty-five, Stephen Kinzer arrived in Nicaragua as a freelance journalist–and became a witness to history. He returned many times during the years that followed, becoming Latin America correspondent for the Boston Globe in 1981 and joining the foreign staff of the New York Times in 1983. That year he opened the New York Times Managua bureau, making that newspaper the first daily in America to maintain a full-time office in Nicaragua.
Widely considered the best-connected journalist in Central America, Kinzer personally met and interviewed people at every level of the Somoza, Sandinistas and contra hierarchies, as well as dissidents, heads of state, and countless ordinary citizens throughout the region.
Blood of Brothers is Kinzer's dramatic story of the centuries-old power struggle that burst into the headlines in 1979 with the overthrow of the Somoza dictatorship. It is a vibrant portrait of the Nicaraguan people and their volcanic land, a cultural history rich in poetry and bloodshed, baseball and insurrection.
(Description courtesy of Amazon.com)
A Memoir of Love and War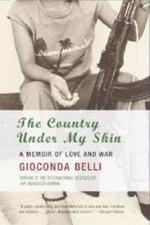 An electrifying memoir from the acclaimed Nicaraguan writer (.A wonderfully free and original talent..Harold Pinter) and central figure in the Sandinista Revolution.
Until her early twenties, Gioconda Belli inhabited an upper-class cocoon: sheltered from the poverty in Managua in a world of country clubs and debutante balls; educated abroad; early marriage and motherhood. But in 1970, everything changed. Her growing dissatisfaction with domestic life, and a blossoming awareness of the social inequities in Nicaragua, led her to join the Sandinistas, then a burgeoning but still hidden organization. She would be involved with them over the next twenty years at the highest, and often most dangerous, levels.
Her memoir is both a revelatory insider.s account of the Revolution and a vivid, intensely felt story about coming of age under extraordinary circumstances. Belli writes with both striking lyricism and candor about her personal and political lives: about her family, her children, the men in her life; about her poetry; about the dichotomies between her birth-right and the life she chose for herself; about the failures and triumphs of the Revolution; about her current life, divided between California (with her American husband and their children) and Nicaragua; and about her sustained and sustaining passion for her country and its people.
(Description courtesy of Amazon.com)
Songs of Life and Hope /Cantos de Vida y Esperanza
By Ruben Darío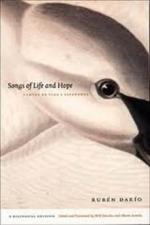 Renowned for its depth of feeling and musicality, the poetry of Ruben Darío (1867.1916) has been revered by writers including Federico García Lorca, Pablo Neruda, and Octavio Paz. A leading figure in the movement known as modernismo,  Darío created the modern Spanish lyric and permanently altered the course of Spanish poetry. Yet while his output has inspired a great deal of critical analysis and a scattering of translations, there has been, until now, no complete English translation of any of his books of poetry. This bilingual edition of Darío.s 1905 masterpiece, Cantos de vida y esperanza, fills a crucial gap in Hispanic and world literature studies. Will Derusha and Alberto Acereda have provided not only an elegant English translation of Darío.s work but also an authoritative version of the original Spanish text.
Written over the course of seven years and in many locales in Latin America and Europe, the poems in Cantos de vida y esperanza reflect both Darío.s anguished sense of modern life and his ecstatic visions of transcendence, freedom, and the transformative power of art. They reveal Darío.s familiarity with Spanish, French, and English literature and the wide range of his concerns.existential, religious, erotic, and socio-political. Derusha and Acereda.s translation renders Darío.s themes with meticulous clarity and captures the structural and acoustic dimensions of the poet.s language in all its rhythmic sonority. Their introduction places this singular poet.arguably the greatest to emerge from Latin America in modern literature.and his best and most widely known work in historical and literary context. An extensive glossary offers additional information, explaining terms related to modernismo, Hispanic history, mythological allusions, and artists and writers prominent at the turn of the last century.
(Description courtesy of Amazon.com)
Solomon's House: The Lost Children of Nicaragua
A Piercing Photographic Essay on Nicaragua's Street Children
By Henrik Saxgren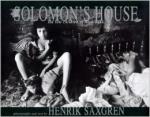 Solomon's House is Danish photojournalist Henrik Saxgren's harrowing account of the dissolution of the social fabric in Nicaragua in the years following the revolution. The book opens with a Preface by Nicaraguan-born Bianca Jagger, an ardent spokesperson for human rights and children's issues in Central America.
Despite widespread poverty and the tensions of warfare present during Saxgren's first visits to Nicaragua in the 1980s, basic standards of decency and family unity prevailed. Upon his return to the country in the mid-1990s, Saxgren found vast numbers of children living on the streets and trapped in a downward spiral of dependency.
At the heart of this story is life in the shantytowns, where teenage girls pay rent to sixty-year-old men through prostitution. Having turned to these men to find a way off the streets, the girls have discovered a dark semblance of family unity under the direst of circumstances.
Through unforgettable photographs and stories,Solomon's House offers a poignant revelation of the fragile nature of human society.
(Description courtesy of Amazon.com)