Dear Yale Alumni, Students and Friends: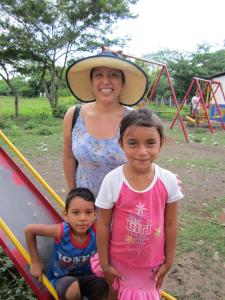 Thank you for your interest in the Yale Alumni Service Corps (YASC) trip to León, Nicaragua. This March, the Yale Alumni Service Corps, in partnership with the Yale School of Nursing (YSN), will connect a group of alumni, students, and friends of Yale with the community of Trohilo in León, Nicaragua. A small team of YASC and YSN volunteers recently visited the community and they are eagerly awaiting our support in March. Our medical, education, athletics, business consulting, and construction teams will inspire change and make a lasting impact on this Central American community.
As you read through the program description, please think about how you can contribute to the team. No matter what your background or skill sets, if you have a passion for people and service, YASC and the community of Trohilo have a need for you.
The upcoming trip to León will mark the ninth YASC international service trip.  Since 2008, our volunteers have brought their compassion and skills to Ghana, Nicaragua, China, Dominican Republic, Mexico and Brazil. I have been on two YASC trips, and it has been an honor to be part of this team of dedicated volunteers.  I volunteer for three main reasons: first, to make a difference in the lives of others; second, to enhance my cross-cultural understanding; and finally, to give back on behalf of Yale. 
Reason 1: Making a Difference
As a graduate of New Haven's public school system who attended Yale College on full financial aid, I've been on the receiving and giving end of the gift of service.   Out of genuine care, people have inspired me to set and achieve goals that seemed out of reach.  Because I am grateful for the gifts I have received, it brings joy to my heart that I have the opportunity to serve others today. The benefits I receive I consider bonuses, for they are not the true motivation for my work with YASC. The true motivation comes from knowing that we, as a team, are inspiring change in a community. 
Reason 2: Cross-Cultural Understanding
I have found that we have a great deal to learn from the people we are serving.  Our former YASC Chair, Dr. Selby Jacobs '61 '72 MPH, makes this point in his 2010 letter to YASC attendees: 
I have believed that cross-cultural experiences are among the most powerful learning experiences for personal growth. They offer a lifetime pursuit that enriches us, our families, and our work lives. …Importantly, though, the learning is not only about the new culture but also about our own. This inevitably invites participating students of all ages to consider the social and cultural prescriptions for their own personal behavior. Learning about oneself through cross cultural experiences is another building block, along with service experiences, in an enhanced, enduring sense of shared humanity.
This cross-cultural understanding ultimately helps us to become more effective with our work abroad. 
Reason 3: Service on Behalf of Yale
Good nonprofits create programs that help people and communities. Mark Dolhopf '77, the executive director of the Yale Alumni Association, taught me that great nonprofits do much more. They change lives. From my personal experience, I know that Yale is a great nonprofit, which is why I choose to give on behalf of Yale today.  Yale has changed and continues to change my life.  Today, I consider it a privilege and an honor to serve as the volunteer trip producer for the Nicaragua 2013 Service Trip. 
I continue to volunteer specifically with the Yale Alumni Service Corps because our volunteers care deeply about the people we serve.  I have a great deal of respect and admiration for our volunteers who choose to use their time, talent and resources, year after year, to make a difference in the lives of others.  I learn valuable lessons from them on the trips and when we return. 
Thank you very much for your interest in the Yale Alumni Service Corps.  We hope that you join us in León!
Sincerely,
Crystal Astrachan '04