CEPAD Mission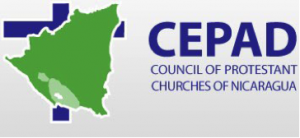 CEPAD is a Christian organization working with poor communities in situations of risk, promoting justice, peace and equitable solidarity, in order to improve quality of life for Nicaraguans. Established in 1972 as a compassionate Christian response to earthquake victims in Managua, CEPAD is a Nicaraguan alliance of denominations, Christian institutions and local pastoral committees that desire to embody the Gospel in service to others.

CEPAD has a unique strategy for supporting vulnerable communities in Nicaragua. It is a process of partnership with village organizations—pastoral committees and collectives—for a cycle that lasts 5 years from start to finish. CEPAD is able to partner with 40 to 50 communities in each 5-year term. The aim is to share expertise, encouragement and resources in a manner that creates self-sufficiency and sustainability after 5 years of accompaniment.
Of CEPAD's 8 Programs, 4 are implemented in partner communities using CEPAD's development model.
Community Promotion and Organization:
The starting point for many communities is at the level of organization and political advocacy. CEPAD's expertise enables rural communities to develop resources and have a voice in local government. The communities form Regional Circuit Committees (RCCs) to obtain legal status as an advocacy organization, to support projects such as road repair, electricity, and communal wells.
Environmental Management and Development:
CEPAD's strategy for training and assisting small farmers focuses on two interdependent goals: food security and care for the environment. CEPAD starts by working with 2 farmers as Community Agricultural Promoters (CAPs) to develop plots that demonstrate sustainable, organic techniques and crop diversity. The leaders are matched with 'disciple' farmers to propagate the techniques in growing a wide variety of fruit plants, wood trees and vegetables.
Integral Family Development:
This program focuses on women and youth in the partner communities, generating skills and abilities that encourage participation in the community.
Women's Patio Project: An efficient and foundational way to provide food security in the home through advanced sustenance farming techniques, empowering women to provide for themselves and their family. Each woman participating in the program receives ten hens, one rooster, and a wide variety of seed stock for crop production.
Psycho-Social Program: Women and youth are trained to provide psycho-social care to community members who are suffering from domestic violence, alcoholism, or other trauma. Special emphasis is given to children with learning difficulties caused by violence at home.
Culinary Arts: Selected participants in the Psychosocial Program are trained in culinary arts and small business creation.
Strengthening Pastoral Leadership:
CEPAD provides pastoral support by training communities in theology using a practical methodology of studio workshops and self-study. The topics are selected by pastors, leaders and congregations to include training in areas such as: Stewardship of Creation, Biblical Origins and Translations, Domestic Violence and Self Esteem, and Working with Youth.
Educating for Life Program:
This program began in the 1980s as a program for pastors to finish their high school education. CEPAD now has the Institute Marcos a Mendieta in Leon, endorsed by the Ministry of Education, for primary and secondary education, as well as distance learning.
Radio CEPAD:
Broadcasting on the AM dial, Radio CEPAD reaches nearly the entire Pacific region of Nicaragua, spreading a prophetic voice in favor of the poorest and most vulnerable sectors of the population. The station provides programs of biblical study and reflection, news, sports, debates and interviews, all with a focus on gender equity, core for the environment, human rights and community action.
Nehemiah Program:
The Nehemiah Program was created to promote two-way cultural exchange between foreign delegations and Nicaraguan communities. The Program facilitates both short-term delegations and long-term partnerships.
Delegations: Over 25 short-term mission delegation's visit each year using CEPAD Nehemiah for accompaniment and logistical support. Delegations learn about the economic, social and political realities of Nicaragua. CEPAD staff facilitates the cultural exchange and give opportunities for northern delegations to experience the generous hearts and hospitality of Nicaragua's rural communities.
Partnerships: Since 1990 CEPAD has facilitated the process of covenant relationships between faith communities in the north (U.S., Canada and Europe) and faith communities in Nicaragua. These special relationships are maintained over many years with communication, regular visits and a fellowship of mutual encouragement.
Attention to Immigrants:
Since 1997 the United Nations High Commission on Refugees (UNHCR) has partnered with CEPAD to support refugees who come to Nicaragua from nations in conflict. The program provides legal assistance and material support to vulnerable individuals and families in the process of integration.
For more information please visit their web page at the following:
Yale School of Nursing
La Escuelita, is a parent-run school which was organized in the late 1990s by local   families to educate the neighborhood children too poor to attend the local public school. For the past five years, YSN faculty and students have traveled to Managua to provide health care and education to the students, teachers and parents at La Escuelita and to educate YSN students about global issues resulting from extreme poverty such as lack of health care, hunger, and limited education. YSN  students also learn to use and improve their clinical skills in a resource-poor setting.   
During the week of the project each child receives a comprehensive health evaluation including growth monitoring, family, social, and medical histories, a complete physical examination and vision and developmental screening. Classes are conducted for the teachers and parents about management of common health conditions such as asthma, GI issues and skin problems. Health promotion activities focus on hygiene, nutrition and safety. Significant health problems identified during these visits such as heart defects, respiratory conditions, severe growth problems and visual deficits are then referred to local health care providers for evaluation and follow-up. YSN students and faculty do extensive fundraising in the months preceding our visit in order to provide money to pay for follow-up specialty care. Some medications are dispensed during the week for acute conditions and funds are left to provide periodic lice and deworming treatment. Enough multi-vitamins with iron are brought to give each child a vitamin three times a week.
Another ongoing component of the project has been the food program. Food security issues have been consistently identified by many families.  A portion of the funds raised prior to the trip provides a meal a day for each child attending La Escuelita.  This meal is rice and beans, a staple Nicaraguan dish which is prepared by the teachers at the school.
The entire project has changed and expanded over the five years since its inception. The numbers of children evaluated have increased from 88 children in 2007 to 141 children in 2011. Better linkages with Nicaraguan health care providers have been established and numerous children have received important follow-up care including surgeries and regular access to needed medications.
In the first few years of the project many mental health issues emerged during the visits with the families. These included domestic violence, substance abuse, depression, anxiety and behavioral issues. Last year a mental health component was added to the project in an effort to more clearly identify and meet these needs. A psychiatric nurse practitioner and student joined the team and evaluated every family using a standardized screening tool.  Families eagerly sought the brief services of the mental health providers during the week and the teachers described this as a very valuable addition to the project. Accessing local follow-up for these concerns has been worked out by the teachers and this component will be included each year.
Another new, exciting component of the program last year was the development of a neighborhood health fair.  On Sunday afternoon, La Escuelita became a busy site of music, art, puppets, face-painting, dance, exercise and information about a variety of child and adult health topics. This will be repeated yearly with new activities requested by the teachers and families.
Since 2010, La Escuelita has been recognized as a "certified school" by the city of Managua and more families have requested admission for their children. Some wonderful improvements to the physical layout have also occurred including a spectacular mural on the exterior walls painted by a renowned Nicaraguan muralist and overhead lighting and ceiling fans in each of the three classrooms.
The project has great potential for long term stability because of the focus on a limited and well defined population of students and families.  Local contacts have been strengthened over the past 5 years and methods to fund raise for the project in the US have been established.
The opportunity to establish a long-term sustainable commitment to this Nicaraguan community has been a privilege as well as an important responsibility for the School of Nursing. YSN faculty and students have responded to the needs of the community as voiced by the community and have sought to make a difference in the health and well being of these children and their families. The continuation of this project is an important component of the mission of the School of Nursing " Better health for all."