An Open Letter to Yale Alumni, Family Members and friends, 
from Dr. Selby Jacobs '61, '72 MPH
Hello and welcome to Yale Service Tours!  Please explore this site and think about the special talents you have to contribute to the next Yale Alumni Service tour in Monterrey, Mexico, March 13-21, 2010.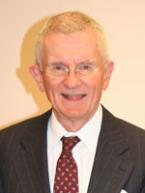 If you join the rapidly growing Yale Alumni Service Corps–a volunteer committee dedicated to creating service opportunities for alumni, families, and students–you will find that there are no dues and no fixed obligations. Rather, you are invited to share   your time, talents and enthusiasm with people who need what you have to offer.  Drawing on my experience in the first two Yale Service Tours in 2008 and 2009, I have pulled together some ideas that I hope will persuade you to join us.
Why cross-cultural service?
The idea of cross-cultural service encompasses two parts: the gift of service and 
cross-cultural learning.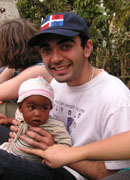 The opportunity to serve others offers a chance to discover and renew altruistic motives all of us share. By engaging with fellow alumni and friends in constructive, collaborative, and mutually supportive work, we expand our horizons and develop talents we didn't know we had. Service to others may simply make us feel better about ourselves. In response to the question about why we volunteered on the 2008 Dominican Republic service tour, my daughter Alicia, a Yale medical school graduate, said it involves "doing our fair share." 
I would suggest that service to others goes even further. It leads to a sense of membership in something bigger, more enduring, and more powerful than individual striving and competition. Collaborative service to other people leads to a deep sense of shared humanity.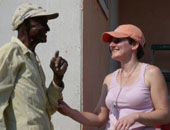 Service abroad in a cross-cultural setting is additive, taking nothing away from service within our own national boundaries. Indeed, many home-based service experiences involve cross-cultural encounters. The addition of cross-cultural experiences to the spectrum of service sponsored by Yale University seems inherently appropriate for a university that is now global in its reach.
Ever since I spent a year in Paris during college and my subsequent Peace Corps service in the Dominican Republic, I have believed that cross-cultural experiences are among the most powerful learning experiences for personal growth. They offer a lifetime pursuit that enriches us, our families, and our work lives. Living in a different culture and learning another language imposes the need to understand new and puzzling social surroundings. Importantly, though, the learning is not only about the new culture but also about our own. This inevitably invites participating students of all ages to consider the social and cultural prescriptions for their own personal behavior. Learning about oneself through cross cultural experiences is another building block, along with service experiences, in an enhanced, enduring sense of shared humanity. In short, the two parts of cross-cultural service form a dynamic and potent combination.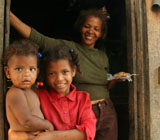 In my opinion, it is remarkable that Yale University, as part of its global vision, now provides many cross-cultural experiences for its students, including opportunities through the AYA. I believe a university is particularly suited for this mission.  Such experiences provide a counterpoint to global competition, driven by economic forces.
Cross-cultural service tours offer inspirational experiences that endure, particularly if reinforced periodically. I know the Yale service tours in San Juan de la Maguana, Dominican Republic, and Monterrey, Mexico were both inspirational for me. 
Alma mater and the Yale family
The first two AYA service tours, sponsored in collaboration with Dwight Hall at Yale, created a multi-generational, educational experience for the Yale alumni, family members and friends who participated.  There were many family dyads of father-daughter, mother-son, father-son, and marital partners. Please see the Yale Alumni Magazine of July/August 2009 for a wonderful account by Sherrie Page Najarian '94 MSN of a mother-daughter experience in Monterrey, Mexico.
The Yale Club of New Haven's support for student scholarships on both service tours enabled an educational experience for undergraduates, the youngest members of the Yale community.  The full range of participants with three generations of children, parents, and grandparents fostered a sense of family. The inclusion of my daughter, Alicia, on the Dominican service tour and my wife, Ann, on the trip to Mexico 
reinforced this aspect of the group experience for me. The purpose-driven Yale family, consisting of like-minded, motivated and committed people, gave fresh meaning to alma mater, for education may be the most enduring factor in a meaningful life.
In response to the question about why we volunteer, my daughter, Alicia, went further and said, the experience "renewed my faith in Yale." This brief interview was captured on a video of the DR service tour on this website. The renewal she expressed is possible for all of us whether we participate or support the experience in other ways.
Please consider joining the next Yale Service Tour and share in this experience.  If you are so inclined, jump in and help us prepare for the service tour to Monterrey, Mexico, March 13-21, 2010.
Yours truly,
Selby