General Information
About the Community
The Dominican Republic occupies the eastern two thirds of the Caribbean island of Hispañola, with Haiti in the western third. The capital is Santo Domingo, located on the south coast of the island. Spanish is the nation's official language. Though English is widely spoken in Santo Domingo and in tourist areas, it is much less common in other regions.
According to the United Nations Human Development Program, the municipality of Vallejuelo and mountain region south of Pico Duarte are among the poorest in the Western Hemisphere. Nearly 90% of the population around Vallejuelo is made up of farming families surviving at a subsistence level. The Diocese of Orlando leads an agricultural collective in Vallejuelo through which residents learn effective, sustainable farming practices. The goal of the collective is to foster economic strength and independence within the community. In addition, with the help of local residents and volunteer partners like Yale, the Diocese is creating 60 new homes in Vallejuelo for families who must relocate from their current village which lies in a floodplain.
Many experts familiar with this western region agree that the biggest challenge facing communities is the lack of education. Teacher attendance in the local schools is sporadic at best and teaching practices are unmonitored. Many teachers and students must travel great distances to get to school. These obstacles create an environment in which residents have little assurance about their education or options for the future. The Diocese runs an extensive education program that focuses on improving literacy and student motivation, in order to provide opportunities for their future. The goal of the Yale Service Tour education project is to offer a creative literacy and arts enrichment curriculum that will inspire students as well as build knowledge and confidence through collaborative performance.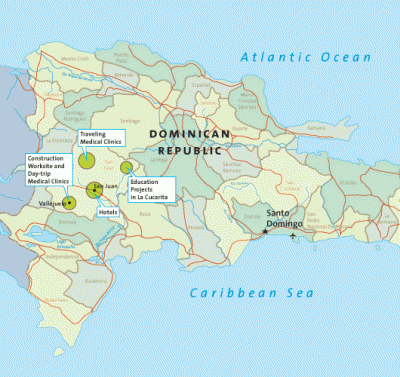 What to Pack
Below is a general packing list for all participants. Volunteers in the medical projects will receive an additional list, specific to your group, from the medical volunteer director.
For your own comfort and convenience it is suggested that you bring a backpack and carry the following with you at all times: raincoat with a hood, canteen, flashlight, insect repellent, and sunscreen. A broad-rimmed hat is also good to decrease sun exposure.
Do not wear military appearing camouflage type garments as it is illegal to do so in the Dominican Republic. Do bring a light jacket or sweatshirt as it can become cool in the evening. Dress as if you expect to get dirty.
Valid passport
Sunscreen
Strong insect repellant (50% deet recommended)
Hat/visor (for sun protection)
Bring enough clothes for the week—laundry facilities will not be available
Light-weight, casual work clothes are most practical
Long trousers for worksite
Light long-sleeve shirts for evening 
Light jacket or sweatshirt (esp. in La Cucarita—temperatures can be cool at night)
2 pairs of sneakers/workboots/walking shoes (roads are rough and dusty)
Body soap
Toiletries (toothpaste, toothbrush, two rolls of toilet paper, deodorant, sanitary supplies, etc.)
Hand sanitizer, antiseptic wipes
Extra pair of eyeglasses and/or contacts
Fanny pack (to carry Wet-Ones, sun screen, tissues, personal items)
Flip-flops for showering
Strong Flashlight and extra batteries (wind-up flashlight also recommended)
Canteen or bottle for water
Poncho/light raincoat
Personal medications
Imodium/Pepto Bismol
Backpack
Earplugs
Swimwear
Participants going to La Cucarita will also need:
  Pillow, sleepingbag or twin sheets
  2 lightweight towels
  Instruments: if you are able to bring any portable instruments, such as harmonica or guitar, they will be a great asset to our education activities.
 
Helpful Donation Items
Education project:
Books in Spanish for all ages (especially ages 4 to 16)
Books in English for beginning English readers (approx. ages 5 to 9)
Spanish-English dictionaries
Song lyric books and tapes/CDs, preferably in Spanish
Colored pencils, drawing pads
Yarn, knitting and crochet needles (and simple patterns in Spanish)
Sewing supplies
Educational games
Hackey-sacks (a coordination game that can be played with limited space—and they're easy to pack!)
Construction project:
First aid supplies for residents: bandaids, hydrogen peroxide, alcohol, antibacterial ointment, gauze bandages, bandage tape, hand sanitizer
Paint brushes
Flower and plant seeds
Basic gardening tools
Medical projects:
A list of needed medications, etc. will be distributed via e-mail.
Immunizations
Some immunizations are recommended for travel to the Dominican Republic. The AYA cannot provide medical advice, but we advise that you consult with your physician regarding immunizations. It is best to do this several weeks before the trip, since some medications may take time to order. Note that we will be traveling to a malaria-risk zone. For general information about immunizations and health issues in the DR, you may also visit the Center for Disease Control and Prevention website at www.cdc.gov.
 
Passport Information
You will need a valid passport in order to travel to/from the Dominican Republic. For information about passports and visas, please visit the U.S. State Department travel website at www.travel.state.gov/passport.
Note: It can often take up to several months to order a new passport. If you do not already have a current passport in hand, please contact the passport office immediately at 877-487-2778.