Project Information
The aim of the program in Ghana and specifically in Yamoransa is to help the community by providing resources – medical, educational, supplies, etc. - that they lack in a way that will provide a meaningful and lasting impact. We also hope to increase the mutual understanding and strengthen the friendship between the people of Ghana and the people of the United States of America. We will provide a unique opportunity for the Yamoransa community to learn about American culture.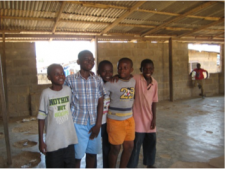 The activities of the program will be extremely diverse to reflect the needs of the community and the skills and interests of our volunteers. We encourage you to share your particular talents and passions with the local community!
Specialized skills are not required for most projects on the Service Program. Keep in mind that if you wish to work on the construction project, there is physical labor involved. Each project will engage a leadership team of volunteers with specialized knowledge in the project area. Project assignments will be based on a combination of volunteer interest, community needs, available space, and program logistics. The final list of activities will be determined by your expertise and the expertise of our entire group.
Projects that are under consideration include:
Medical Clinics and Education — Nurses, physicians, physician assistants, and pharmacists are needed to provide clinical and diagnostic services to the community which has limited access to medical care. Medical volunteers will also focus on preventive health education, clinical home/community assessment and support for specific families. There may be the opportunity to work on medical education through the University of Cape Coast Medical School and Hospital as well. The clinic will be set up in an open-air building in Yamoransa.
Educational and Arts Enrichment —Volunteers will offer classes, tutoring and workshops for children of all ages and possibly for adults in a wide range of subjects including reading, writing, math, arts and crafts, music, and anything else that you would like to offer. The children are eager to learn! Yamoransa is not able to provide resources to educate all the children in the community to the level it would like and there is a high drop-out rate, particularly for girls. The Chief has expressed the hope that the YASC visit will be an inspiration for them to come and see what is going on at school and why it is so important to be there. Many of the adults in the community may want to learn everything from cooking to sewing skills, basic carpentry, and crafts. On previous Service Programs, educational programs included martial arts, cooking classes, yoga and stress management, jewelry-making, origami, and more.
The specific design of the educational program will depend on the skills and interests of volunteers who participate in this project. This is an ideal opportunity to release your creative energies! Local Participants will be invited to share their own skills and talents with our group in performances during the week and in a special event at the conclusion of the program.
The education and arts program will be located at two or more schools in Yamoransa that are about 15 minutes apart (walking that is.)
Athletics —Join coaches and kids, who will work with alumni volunteers to conduct exciting sports camps for the children and teens of Yamoransa. We would like to have basketball, baseball and soccer camps. Athletic activities will run as half day activities. We have already identified a field in Yamoransa that will be available for the sports program.
Small business consulting —Volunteers with a background in understanding a small business and basic accounting, food preparation, marketing, design, asset building, or related fields will have the opportunity to work with adults who are eager to learn small business management skills. There are many entrepreneurial businesses in Yamoransa, particularly food preparation of kenke by the women and girls in each family. While this can cause a high drop-out rate for the girls, it is also a critical money source in the community. Our business volunteers will teach local clients strategies to manage their costs and work competitively at selling their goods and services in the local marketplace. The business advisory team will primarily visit individual businesses and may have a "headquarters" as well.
Construction —Volunteers will work alongside our local partners on construction projects that service specific needs in the community. In particular, there is a building that needs a new roof at the school so it can be converted into a library. There are other buildings in need of refurbishment and in need of simple furnishings such as shelves. We are also talking about the possibility of instally a playground in Yamoransa. The construction team will probably work at two sites within Yamoransa.
Of course, the actual projects will depend on you as well as on the needs of Yamoransa – please let us know how you would like to serve. The final decision on projects will be made by May so we can start organizing our teams and planning the projects.