Trip Location:
Serra Grande, Bahia, Brazil
The Yale Alumni Service Corps is delighted to announce an innovative Service Trip to Serra Grande, an underserved community located in the state of Bahia on the southeastern coast of Brazil, an area that is considered to have the third greatest biodiversity in the world. Serra Grande is an oasis of breathtaking natural beauty, significant biodiversity, and abundant natural resources but as with many underserved communities around the world, this does not translate into economic resources for its residents.
This is a unique opportunity to work alongside other volunteers who are passionate and interested in innovative and sustainable work in underserved communities. Building on the success of the projects undertaken by 73 YASC volunteers this past March, we will team up with incredible ground partner organizations, which have formal educational and research collaborations with the Yale School of Forestry & Environmental Studies, to enhance project integration and community involvement with our volunteers.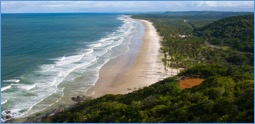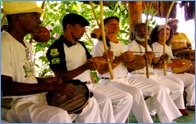 For the March 2017 program, we have developed an innovative model that will focus on project integration involving various parts of this community working alongside our volunteers. We have a refined intersecting focus at the interface of Education and the Environment – an integrated approach to:
Community well-being
Growth
Building
Health
Development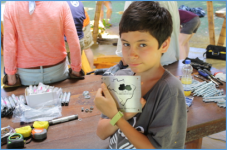 Enhanced Project Integration & Community Involvement
Continuing to work in collaboration with our main ground partner, Instituto Floresta Viva, an organization that brings sustainable economic alternatives to small agricultural producers in protected areas, and Universidade Estadual de Santa Cruz (UESC), you can work on a wide array of highly integrated projects that will increase community involvement particularly with the youth of Serra Grande. In addition to athletics, construction, and business consulting, we will organize focused integrated projects in Arts and Education, Library, Environment, and Public Health by using special places in the community as a classroom – you have the opportunity to:
Teach children in the primary and secondary schools the importance of environmental protection, personal health protection, water conservation, reforestation, and recycling. Through exciting theme-based field trips into their own community help students to use arts and crafts to document their own impressions and experience; – PLUS: you will also encourage them to stay in school and continue their studies and avoid social pressures to drop out, and possibly fall to drug use and addiction – a serious challenge in this small community.
Support environmental conservation with young people from Serra Grande through educational mentorship and planting seedlings and trees at the "Represa" (river dam) Park in the middle of the village with our partner Floresta Viva, a partner of the Yale School of Forestry & Environmental Studies.
Construction: Working with a local wood working school for girls and boys, build playground equipment at the Represa Park. Guide in safe tool use, structural planning and structural placement.
Work with the health post outreach staff with visiting groups of school students through translated dialogue, Q&A, health riddles, and simple handouts. You will incorporate environmental themes into meaningful topics about personal health maintenance, healthy eating, disease prevention, water born disease, pollution and health, hygiene as a personal environment, drug addiction, and tobacco use.
Provide business consulting assistance and organize financial literacy classes for returning 2016 business entrepreneurs in the community and a new wave of people considering aspects of Eco-tourism in the area; provide materials to school age youth about careers in local eco-business, and socially minded paths of study.
With a Brazil Olympics Theme introduce new sports and games to children such as Frisbee, jump rope, tetherball and kick ball, and organize boys and girls soccer sessions, running, and dance.
No special skills are required.  If you want to join us on our second trip to Serra Grande, we will find a volunteer opportunity for you. Alumni from all classes, all graduate and professional schools – and their friends and family – are welcome. You will make new friends and contacts from a very special breed of folks who make service and hard work an important ingredient in their lives. Be one of them!
For families, there is no better gift you can give your children, ages 10 and older, than working with them side by side while serving an enthusiastic community in another part of the world.
As with our prior programs, you will find this trip to be life changing, for both the villagers and for our volunteers including you!
Cost includes:
Service Program (March 17-26, 2017)
$1,950 per person (based on double occupancy) + $450 single room supplement (does not include international airfare). Includes accommodations, ground transportation, meals, translators, celebration events, excursions and activities.
Sightseeing Extension
Post-Trip Extension to Pantanal (5 days, March 26-30, 2017)
$1,240 per person double occupancy + $270 single room supplement
Click here for detailed itinerary
Cost does not include:
International airfare to Ilheus; travel or baggage insurance; visa fees; other personal and incidental expenses
Service Trip Scholarships:
The Yale Alumni Service Corps is able to provide partial scholarships depending on availability of scholarship funds. These funds are donated by other travelers inspired by the program. Please refer to the registration form for details about applying for scholarships as deadline for submission is December 1, 2016! You must complete this application and pay the required deposit, which is not part of the scholarship award.
If you do not receive the necessary assistance, your deposit will be refunded. Awards will be based on financial need, skills and knowledge needed for service projects, and previous volunteer experience. We cannot accept any other form of requests for funding at this time. You will be notified about any scholarship funding that you have been granted by December 15, 2016.
Additional Information:
Registration: Deadline to register is December 1, 2016! Deposit and final payments are fully refundable until this date. Please be aware that after December 1, 2016, all program payments and deposits are nonrefundable! We strongly recommend the purchase of trip cancelation insurance, in the event that you have an unforeseen cancelation.
UPDATE: PLEASE NOTE THAT WE ARE EXTENDING THE DEADLINE TO REGISTER FOR THIS PROGRAM TO JANUARY 1, 2017. ANY NEW REGISTRATIONS RECEIVED AFTER DEC. 1, 2016 WILL BE REQUIRED TO MAKE FULL PAYMENT, WHICH WILL BE NON-REFUNDABLE AT THIS TIME.
Children: Families with children 10 and over are welcome and encouraged to attend. Unfortunately, we cannot accommodate children under 10 on the program and all youth 18 and under must be accompanied by an adult. All children under 13 must have a parent participating in the same service project(s) throughout the program.
Orientation:
Please note that we will organize 2-3 online orientation sessions beginning in late January. We will discuss the needs of the Serra Grande community, the projects we will undertake, and our relationship with members of the community and our key partners in Brazil - Instituto Floresta Viva and the Universidade Estadual de Santa Cruz (UESC). Stay tuned for additional details.