The Yale Alumni Service Corps is delighted to announce its inaugural Intercultural Program to Cuba. Known for its poets, culture, and Afro-Cuban folklore, our activities will take place on the outskirts of Matanzas, capital of the Matanzas Province on the northern shore of the island.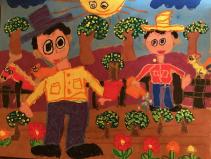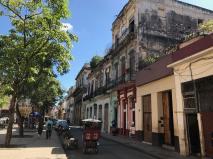 Share and learn- You will have an opportunity to work on arts and education for students, environmental awareness, construction, photography, cultural exchange, alongside our partners Amistur Cuba S.A. and Academic Arrangements Abroad. We will also work closely with the Foundation Antonio Núñez Jiménez for Nature and Humanity, a cultural and scientific non-governmental institution, dedicated to research and promotion of programs projects for the protection of the environment as it relates to culture and society.  Our projects and excursions are designed to bring the Yale participants and the members of the Cuban society together to foster mutual understanding and appreciation for the culture.
You will have the opportunity to:
Plant 1,000 trees as we work a group of local Cuban volunteer youths to reforest 4-5 acres of land lying above the Bellamar Caves.
Organize Visual Arts Projects including an interactive and participate in an art of photography project with a local artist.
Build a bus stop shelter and dry toilets between the two small communities of Bellamar and Alcancia.
Engage in cultural exchange activities: Sports exchange program, visit to a health polyclinic, visit an organization doing impressive work on multiple issue in Cuba's underserved population with a focus on the disabled and the elderly, visit the Bellamar Caves and Castillo de San Severino where you will participate in African heritage activities including Music and Dance.
No special skills are required. If you want to join us on this exciting intercultural program, we will find a volunteer opportunity for you. Alumni from all classes, all graduate and professional schools – and their friends and family – are welcome. You will make new friends and contacts from all walks of life! For families, there is no better gift you can give your children, than working with them side by side while serving an enthusiastic community in an interesting part of the world. Families with children 10 and over are welcome and encouraged to attend. As with all of our programs, we hope you will find this trip to be unique and engaging.
Cost includes:
Intercultural Program (July 29-August 5, 2017)
$1,850 per person, double occupancy ($300 single room supplement). Does not include international airfare. Includes accommodations, ground transportation, meals, translators, celebration events, excursions and activities. Program does not include airfare.
Sightseeing Extension
We will offer a post-trip Extension to Havana (August 5 - 8, 2017)
$1,695 per person based on double occupancy
$245 single room premium
Refer to Add-On Trip section for detailed itinerary
Registration Information
Your registration will not be complete until AYA has received your deposit of $500 per person. Deposit payments are fully refundable until March 1, 2017! Please be aware that after March 1, 2017, all program payments are non-refundable! Final payment is due on March 8, 2017! We strongly recommend the purchase of trip cancellation insurance. (Note: Substitution of registration for another person is not allowed.)
Cost does not include:
International airfare to Cuba; travel or baggage insurance; visa fees; other personal and incidental expenses
Service Trip Scholarships:
The Yale Alumni Service Corps is able to provide partial scholarships depending on availability of scholarship funds. These funds are donated by other travelers inspired by the program. Please refer to the registration for details about applying for scholarship as deadline for submission is March 1, 2017! You must complete this application and pay the required deposit (not part of the scholarship funding). If you do not receive the necessary assistance, your deposit will be refunded. Awards will be based on financial need, skills and knowledge needed for service projects, and previous volunteer experience. We cannot accept any other form of requests for funding at this time. You will be notified about any scholarship funding that you have been granted by March 31, 2017.
Please complete a scholarship application available on the registration site and upload to your registration.
Additional Information:
Children: Families with children 10 and over are welcome and encouraged to attend. Unfortunately, we cannot accommodate children under 10 on the program and all youth 18 and under must be accompanied by an adult. All children under 13 must have a parent participating in the same service project(s) throughout the program.
Orientation:
Please note that we will organize 2-3 online orientation sessions beginning in late April. We will discuss the needs of the community, the projects we will undertake, and learn more about our key partners in Cuba. Stay tuned for additional details.