Trip Location:
Serra Grande, Bahia, Brazil
Dear Yale Alumni, Students, Family and Friends,
The Yale Alumni Service Corps invites you - alumni, family, and friends - to join our inaugural service trip to Brazil. Don't miss this opportunity to use your time and talents to make a real difference in the lives of others on the first of several inspiring journeys to Serra Grande, an underserved community located in the state of Bahia in Brazil.
Building on our strategic plan designed to empower the communities we serve and to ensure that our programs have an enduring impact via robust partnerships, Yale staff and a small group of Yale alumni visited Serra Grande in March of 2015 where we met with ground partners, brainstormed with key community leaders, and discussed potential projects. We hope to create the most effective and sustainable projects with engagement and commitment from the community, including its leaders and local organizations. By working closely with our ground partners, we plan to keep in touch with and develop our relationships with the local schools, libraries, and grass-roots/local organizations we met.  We aim to empower the community in a way that will preserve the amazing biodiversity while encouraging economic, educational, and environmental initiatives in the long-term.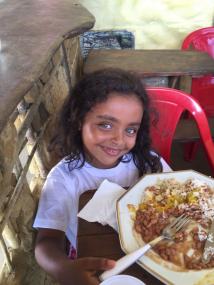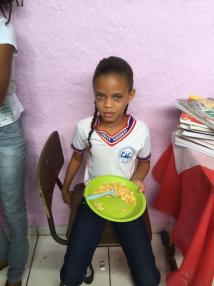 Working in collaboration with our main ground partner, Floresta Viva, an organization that brings sustainable economic alternatives to small agricultural producers in protected areas, you have the opportunity to:
Teach children in the primary and secondary schools the importance of environmental protection, reforestation, and recycling, as well as fun science, math, oral history and reading motivation projects, arts and crafts, music, photography, videography and painting – you will also encourage them to stay in school and continue their studies.
Create a children's room at the local library for various activities, build shelves, and clear a field behind the local school for children to play.
Support environmental conservation with members of the community through educational programs, planting seedlings and trees for a proposed botanical garden and developing the watershed area with Floresta Viva, a partner of the Yale School of Forestry & Environmental Studies.
Address key public health needs including maternal and child health, teen pregnancy, drug and alcohol abuse, dengue prevention, domestic abuse, mental health, and dental hygiene, and encourage members of the community to participate in free health screenings at the local clinic during our stay.
Provide business consulting assistance and organize financial literacy classes for children and adults and work with local NGO that provides micro-loans and grants to local businesses. There is an application period for financing of these loans that is closing around the time of our trip so this is an excellent opportunity for volunteers with business skills to work on actual cases.
Introduce new sports to children such as Frisbee, jump rope and kick ball, organize boys and girls soccer sessions, running, dance, and other athletic activities.
No special skills are required.  If you want to join us on our trip to Serra Grande, we will find a volunteer opportunity for you. Alumni from all classes and all graduate and professional schools – and their friends and family – are welcome.
There is no better gift you can give your children, ages 10 and older, than working with them side by side while serving the community. As on our prior programs, you will find this trip to be life changing, for both the villagers and our volunteers.
Cost includes:
Service Program (March 11-20, 2016)
$1,890 per person (based on double occupancy) + $450 single room supplement (does not include international airfare). Includes accommodations, ground transportation, meals, translators, celebration events, excursions and activities
Extensions:
Pre-Trip Extension to the Amazon (4 days, March 8-11, 2016)
$1,165 per person (based on double occupancy) + $215 single room supplement
Includes flight Manaus/Ilheus
Post-Trip Extension to Rio de Janeiro (4 days, March 20-23, 2016)
$1,180 per person (based on double occupancy) + $550 single room supplement
Includes flight Ilheus/Rio
Post-Trip Extension to Iguazu Falls/Rio de Janeiro (6 days, March 20-25, 2016)
$2,035 per person (based on double occupancy) + $715 single room supplement
Includes flights Ilheus/Foz do Iguazu/Rio de Janeiro
Please refer to "Add-On Trip" tab section of this website for detailed itineraries
Cost does not include:
International airfare to Ilheus; travel or baggage insurance; visa fees; other personal and incidental expenses
Service Trip Scholarships:
The Yale Alumni Service Corps is able to provide partial scholarships depending on availability of scholarship funds. These funds are donated by other travelers inspired by the program. Please refer to the program for details about applying for scholarship as deadline for submission is November 1, 2015! You must complete this application and pay the required deposit (not part of the scholarship funding). If you do not receive the necessary assistance, your deposit will be refunded. Awards will be based on financial need, skills and knowledge needed for service projects, and previous volunteer experience. We cannot accept any other form of requests for funding at this time. You will be notified about any scholarship funding that you have been granted by November 15, 2015.
Please complete a scholarship application available on the registration site and upload to your registration.
Additional Information:
Children: Families with children 10 and over are welcome and encouraged to attend. Unfortunately, we cannot accommodate children under 10 on the program and all youth 18 and under must be accompanied by an adult. All children under 13 must have a parent participating in the same service project(s) throughout the program.
Orientation:
We hope you can join us on Saturday, January 23, for an orientation program. We will discuss the needs of the Serra Grande community, the projects we will undertake, and our relationship with our key partner in Brazil Floresta Viva. The orientation be held at the Rose Alumni House, 232 York Street, New Haven, CT.