One of the best trips I've ever taken–it completely surpassed my expectations. 
Yale, the participants, and the community were all amazing.
- Brooke Courtney, '99 MPH
Building on the incredible success of our March 2009 Monterrey Yale Service Tour, we are excited to continue this initiative, which brings alumni, students, and families together to share their passion and talents with communities in need. The AYA and Dwight Hall have forged a partnership with the University Tecnológico de Monterrey and the Secretaria de Desarrollo Social (the social service agency for Nuevo Leon state), enabling us to offer this powerful volunteer program in Mexico in March 2010.
This Service Tour engages Yale alumni, family members, and students–together with local volunteers–providing crucial community development, enrichment programs, and medical care for the community of Unidad Piloto in Monterrey.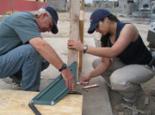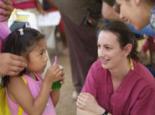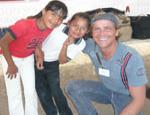 The Service Tour includes an array of volunteer projects, designed to match the skills of our alumni participants and address the particular needs of each community we serve. Service projects range from education to small business consulting, construction & public works, arts enrichment, athletics, public health, sustainability programs, medical clinics, and clinical home/community assessment & support. (See "Service Projects" page for more details.)
Yale Service Tours enable you, as participants, to work side by side with local community members–helping, teaching, learning, and forming friendships you never forget. Participants also delve into the Monterrey region's culture and history through lectures, evening excursions, celebrations, and informal discussion.
Cost:
$1,850 per person, excluding airfare (single supplement is $325 for participants not sharing a room) $1,650 for Yale students, and participants age 10-17 (if sharing a room with parents)
Cost includes:
customized collaborative service projects in Monterrey; accommodations; most meals; translators (as needed); local transportation throughout the program; tools and materials needed for service projects; bottled water at work sites; full itinerary of cultural highlights and opportunities for community interaction. Cost also includes excursions in Monterrey. 
Cost does not include:
international airfare to/from Monterrey; travel or baggage insurance; other personal and incidental expenses.
Service Trip Scholarships:
 financial aid may be available to some participants based on financial need. Please call 203-432-1955 for more information.
Additional Information:
Registration:  Please register now to ensure your space and preferred project assignment. (Some service projects may reach capacity.) Registrations are confirmed on a first-come, first-served basis. To register for the Monterrey Service Tour, click on "Registration" in the right hand menu.
Alumni and friends make a world of difference by sharing your time and talent!