We invite you to join the Yale Alumni Service Corps on its return to India in 2015 for another inspiring service trip. We will travel to the ancient city of Jodhpur in Rajasthan, which will serve as our base while we work in Kakelao, a small village located just outside Jodhpur.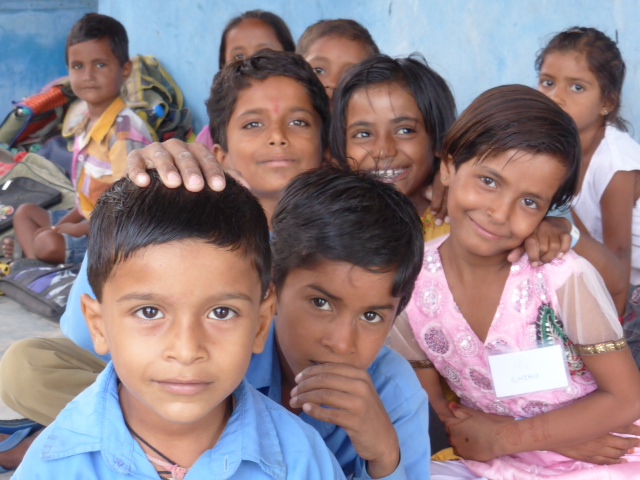 Spend a week with us in a village in India and …
• Make a difference while experiencing many aspects of Indian culture.
• Provide your children with a unique opportunity to serve.
• Work closely with Yale alumni, family, and friends, and forge relationships built on the concept of service.
You will have the opportunity to build on and expand the projects started last year and to create new projects based on your talents and interests.  Our group in the summer of 2014, which included 130 YASC volunteers and dozens of volunteers from AFS India, local high schools, a local hospital, and a nursing college, accomplished quite a bit in Kakelao:
• Public health education programs ranged from maternal and child health, nutrition, and breast cancer awareness to hookworm prevention and diabetes education.  We distributed hundreds of pairs of sandals, mostly to children, as part of a hookworm awareness project, and we provided reading glasses and sunglasses to many individuals in the community. We also taught local women how to identify visual problems in infants and toddlers for early intervention.
• Medical clinic volunteers examined hundreds of patients, successfully trained nurses and midwives on a Helping Babies Breathe curriculum, and offered physical therapy services.
• School education programs served 420 students in the local primary and secondary schools. Classes ranged from world geography, English, and music to math, geology, and astronomy. A group of experienced teachers carried out a "teach the teachers" program at the secondary school.
•A preschool team led early childhood education programs for young children attending the anganwadis, (local health and day-care centers) and painted murals on the walls of the centers.
• An arts program introduced students to collages and mosaics, hip-hop and beat boxing, digital photography and theater. Professional film-makers taught students their craft and donated substantial film equipment to a local institute that educates girls from remote parts of Rajasthan.
• A construction team designed benches and desks for the primary school.  We assembled many of these during our time in Kakelao, and we also trained local volunteers, who completed the construction project after we left. 
• An athletics program introduced children to baseball, Frisbee, relay races, running, hip-hop, and other athletics activities.
• A business team offered consulting services for multiple projects, including an effort to bring the Internet to the village.
We look forward to working with you to develop creative, relevant, and meaningful projects for the Kakelao community as we plan our return in the summer of 2015.  Please note that all YASC volunteers on this trip – including children – will be expected to participate to some extent in planning the projects we will be providing in Kakelao and to purchase and transport necessary supplies.
A video from last summer's trip is in the final stages of production. You can view a trailer here: https://www.youtube.com/watch?v=aua6KQ3CWcw.  AFS India, one of our partners on the 2014 Kakelao trip, compiled a beautiful dossier summarizing our time in the village: http://www.youblisher.com/p/965801-The-Kakelao-Project-YALE-Alumni-Service-Corps-AFS-Intercultural-Programs-India/
Cost includes:
Service Program (July 29-August 9, 2015)
$2,450 per person (based on double occupancy) + $550 single room supplement
Includes flight from New Delhi to Jodhpur, accommodations in New Delhi and Jodphur, ground transportation, meals, translators, celebration events, excursions and activities
Note: departure date from US is July 29 with arrival date in New Delhi on July 30
Extensions:
Pre-Trip Nepal Adventure (July 24-30, 2015)
Please join our pre-trip extension to Nepal, which we might offer given sufficient interest.
$1,450 per person (based on double occupancy) + $400 single room supplement
Includes local flights and accommodations, ground transportation, meals, translators
Post-Trip Golden Triangle Tour (August 9-13, 2015):
Please join us for a sightseeing extension to the Golden Triangle of Jaipur, Agra (the Taj Mahal), and New Delhi following our time in Kakelao.
$700 per person (based on double occupancy) + $450 single room supplement
Includes accommodations in Jaipur, Agra, and New Delhi, ground transportation, meals, translators
The Add-On trips tab on the right contains details about these Extensions.
Cost does not include:
International airfare to/from India (or Nepal, for the trip extension); travel or baggage insurance; other personal and incidental expenses.
Service Trip Scholarships:
Financial aid may be available to some participants, based on financial need (applies only to service program). Please complete a scholarship application available on the registration site and upload to your registration.
Additional Information:
Children: Families with children 10 and over are welcome and encouraged to attend. Unfortunately, we cannot accommodate children under 10 on the program and all youth 18 and under must be accompanied by an adult. All children under 13 must have a parent participating in the same service project(s) throughout the program.
Orientation:
We hope you can join us on Saturday, April 18, 2015, for an orientation program. We will discuss the needs of the Kakelao community, the projects we will undertake, and our relationship with our partners in India including AFS India and Pratham. The orientation be held at the Rose Alumni House, 232 York Street, New Haven, CT. More information to follow.