If you are interested in exploring more of India either before the service trip, or after the sighseeting extension, YASC will organize one or two add-on travel opportunities: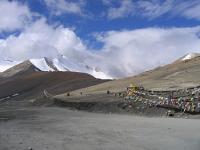 A pre-trip add-on to Ladakh in the Himalayas
Ladakh is sometimes called "Little Tibet"
Visit the Thikse Monastery
The estimated price for this trip is USD 1,500.

A post-trip add-on to Kerala in South India
Stay on a house boat
Visit the Periyar Tiger Reserve
The estimated price for this trip is USD 1,300.
How to Register
If you have not yet registered, you can select the appropriate options during registration
If you registered before these options were open, refer to your confirmation email for details on how to log in and modify your registration. Email Joao Aleixo if you need help.