Partners

Instituto Nueva Escuela (INE) is an independent 501(c)3 non-profit organization. It is dedicated to improving Puerto Rican students' academic and socio-emotional outcomes through the implementation of Montessori education in the public school setting. INE accomplishes its mission by partnering with public schools to train and certify classroom teachers in Montessori education and provides leadership, support and technical assistance to public schools and to community partners.
INE practices and promotes the Montessori philosophy, curriculum and methodology. This education method's success has been proven for more than a century. It maintains its validity due to the practicality and beauty that lie in understanding and responding to the educational, emotional, and social needs of children and youth in a changing society. 
INE's work is aimed at transforming the soul and spirit of teachers and preparing them in the Montessori philosophy and methodology. The teachers participating in the project are committed to real education reform in Puerto Rico's public schools.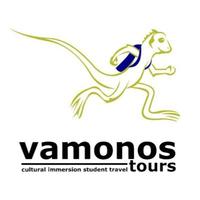 Vámonos was founded by Jorge Pardo in 2002 after years of taking his own students on cultural and Spanish immersion tours of Puerto Rico. They are committed to providing a close and personal support with offices in Delaware and Puerto Rico. Vámonos is an official A+ BBB accredited business and a member of prestigious student travel and tourism organizations.