General Travel Information
Adapted Content from Peace Corps Ghana Handbook - click here
Includes useful information on people and culture, general information about Ghana, professionalism, dress, and behavior, maintaining your health, and other relevant issues for our volunteers!
About Ghana
Ghana, officially the Republic of Ghana, is located in West Africa. It is bordered by Côte d'Ivoire (Ivory Coast) to the west, Burkina Faso to the north, Togo to the east, and the Gulf of Guinea to the south. The word Ghana means "Warrior King" and is derived from the ancient Ghana Empire. Accra, the capital, is the large city closest to 0°-0° - longitude/latitude, that is.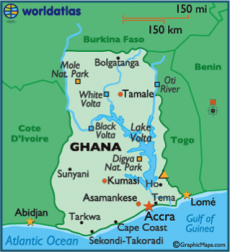 Practically speaking, you in a tropical climate at the same time zone as London or an hour off because of day light savings decisions. Ghana is beautifully situated along the Atlantic Ocean and is home to a wide variety of flora and fauna in the rain forests as well. Lake Volta in the eastern part of the country is the world's largest man-made lake. In total area, Ghana is slightly smaller than Oregon.
Ghana has a population of about 24 million people. It is home to more than 100 different ethnic groups. Ghana has not seen the kind of ethnic conflict that has created civil wars in many other African countries. The official language is English; however, most Ghanaians also speak at least one local language.
Background
Formed from the merger of the British colony of the Gold Coast and the Togoland trust territory, Ghana in 1957 became the first sub-Saharan country in colonial Africa to gain its independence. Ghana endured a long series of coups before Lt. Jerry RAWLINGS took power in 1981 and banned political parties. After approving a new constitution and restoring multiparty politics in 1992, RAWLINGS won presidential elections in 1992 and 1996 but was constitutionally prevented from running for a third term in 2000. John KUFUOR succeeded him and was reelected in 2004. John Atta MILLS won the 2008 presidential election and took over as head of state, but he died in July 2012 and was constitutionally succeeded by his vice president, John Dramani MAHAMA, who subsequently won the December 2012 presidential election.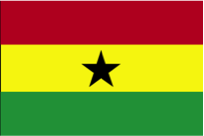 The flag which consists of the colors red, gold, green and the black star became the new flag in 1957. Designed by Theodosia Salome Okoh, the red represents the blood that was shed towards independence, the gold represents the mineral wealth of Ghana, the green symbolizes the rich agriculture and the black star is the symbol of African emancipation. Formed from the merger of the Gold Coast and British (formerly German) Togoland by a United Nations sponsored plebiscite in 1956, Ghana became the first sub-Saharan African country to gain its independence in 1957.
About Coconut Grove Resort
http://coconutgrovehotelsghana.com/
Coconut Grove Beach Resort and Conference Center is located in Mmoframa Akyinim, on the coast of Elmina, the historic Capital of the Gold Coast. Coconut Grove Beach Resort is about a three hour drive from the Airport.
Coconut Grove is a three star hotel tropical beach resort spread luxuriously over 65 acres of tropical garden. It is set amidst mountainous vegetation and offers a beautiful view of the Gulf of Guinea. It is strategically located to provide easy reach to the historic land marks in the country and is about 30 minutes from Yamoransa.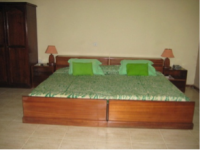 There are two types of accommodations available for the YASC program: standard rooms located in the main property of the Coconut Grove and bungalows in the African Village, which is located in an adjacent area from the main building. Rooms in Coconut Grove and African Village do have hot water.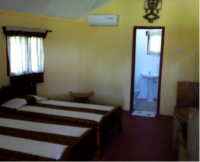 The furnishings in the bungalows are spare rather than luxurious providing the feeling of a Ghanaian home. A All rooms are air-conditioned. There is Wi-Fi at Coconut Grove and African Village although it may not be available in all rooms all the time.
The conference facility is the largest out of Accra. There are 4 meeting rooms (seating from 5 – 400) and 4 syndicate rooms with a fully equipped secretariat. The popular Ocean View Restaurant has an enviable reputation for the best sea food served fresh in the region. Coconut Grove Beach Resort is the only hotel in Elmina that has access to a clean and safe beach.
The fresh water swimming pool close to the Atlantic Ocean, allows the guests access to swimming any time of day. Two clay tennis courts and a Basketball court are available for the sports enthusiast. The hotel boasts an 18 hole recreational golf course complete with well-tended greens.
Helpful Donation Items
Yamoransa is a community that will appreciate all the gifts we bring. Based on past programs, we know there are certain items that will be useful for our projects. We will expend this list as planning progresses.
Arts and crafts supplies
Digital Cameras
Memory Cards for Digital Cameras
Notebooks
Pens and pencils
Construction materials to be specified later
Soccer balls, baseball equipment
and more suggestions available soon!
Immunizations
For advice on vaccinations and travel medication, we recommend that you consult your doctor or health-care provider to determine what you will need (this will depend on individual factors such as your health and immunization history). It is best to see a health-care provider at least 6-8 weeks before your trip. General information can be found on the Center for Disease Control and Prevention Web Site at http://wwwn.cdc.gov/travel/destinationGhana.aspx. The CDC also urges that you ensure your routine vaccinations are up-to-date prior to traveling.
You must have certification of immunization against yellow fever in order to enter Ghana.
Passport Information
You will need a valid passport and a visa in order to travel to/from Ghana. For information about passports and visas, please visit the U.S. State Department travel Web Site at www.travel.state.gov/passport.
Note: It can often take up to several months to order a new passport. If you do not already have a current passport in hand, please contact the passport office immediately at 877-487-2778.
Visa Information
http://ghanaembassy.org/
http://www.ghanaembassy.org/uploads/files/Visa_Application_Form.pdf
References for visa application:
1. AFS Intercultural Exchange Programs
Adjacent to the YWCA
H/No C68/2 Castle Road
Adabraka Ghana
Tel:+233 302 229470
2. Coconut Grove Hotel
P.O. Box 175
Elmina-Ghana
Tel:+233 263 000689
      +233 244 333001